AHEAD of finalising the team for the European Championships should the GB selectors need any further confirmation of Ben Pattison's talent and form then they need look no further than his superb record-breaking performance in the Saucony Trafford Grand Prix.
The 20-year-old Basingstoke & Mid Hants athlete produced a remarkable performance – certainly a contender for one of the best moments of the Grand Prix season – to shave 0.15 seconds off Max Burgin's two-year-old BMC record as he exploded clear of the field to win the A race in a personal best time of 1mins 44.60secs.
The win was memorable in so many ways. There was an audible collective gasp from the crowd as the time flashed up on the electronic clock as Pattison broke 1:45 for the first time, lifting him to second on the UK Rankings behind Burgin and 18th on the UK All Time list, in a race that he totally controlled.
Furthermore, within minutes he seemed fully recovered, happy to chat and was collecting his £1,500 cheque from the BMC for his exploits.
"To be honest I didn't think we would be seeing anyone break Max's record (set on the same track at the BMC Gold Standard meeting in August 2020) any time soon but Ben was superb tonight," said BMC CEO Tim Brennan.
"It is great to see how he and Max have come up through the ranks together and who knows how far they may push each other on in the years to come."
One suspects Burgin, who is still with the GB team at the World Championships in America as he recovers from the deep vein thrombosis that forced him to pull out of the 800m at Oregon, will have been on the phone as soon as he saw the news flash through.
"We are good mates and I have talked to Max since the news came out and he is totally gutted," said Pattison.
"Hopefully he will be okay to race at the Commonwealth Games (the pair will represent England in the 800m) but I guess we'll have to wait and see how his calf is.
"I was so disappointed for him."
But for Pattison the time and manner of his win is the perfect boost ahead of the Commonwealths when he will tackle his first senior championships.
"It is going to be tough and if all goes to plan I will face three hard races," said Pattison.
"My aim is first to reach the final and to do that I'll need to treat every round as if they are a final. Once you get into the final anything can happen in the 800m; everyone is good enough to win. But you have to get to the final first otherwise it counts for nothing."
While there was a yawning gap of 1.42secs to Jamie Webb the Liverpool Harrier could also take some encouragement from his performance as he finished strongly.
"I'm first reserve for the 800m at the Commonwealth Games and my head has been all over the place since the news about Max broke," said Webb.
"I have a race lined up in Stockholm next week but it may turn out I'll need to join the England holding camp in Loughborough. I guess it will become clearer during the week."
Behind those two 21-year-old Thomas Keen made a big leap forward improving from 1:47.83 to 1:46.18 to finish third barely a vest's width ahead of Elliot Giles, who was using the race to sharpen up ahead of racing the 1500m at the Commonwealth Games.
"My training has been geared towards the 1500m so I'm not unhappy with that," said Giles, who on paper (1:43.63) was the fastest man in the field.
And in fifth the fast-improving David Locke continued his terrific season with a PB of 1:46.47. Last year his best was 1:48.50.
Pattison wasn't the only Birmingham-bound runner to leave Trafford with a morale-boosting personal best and victory as both Matt Stonier and Calli Thackery showed good form.
Teaming up with Giles, 20-year-old Stonier will run the 1500m for England at the Commonwealth Games so stepped down for a rare outing over 800m for a sharpener.
With a lifetime best of 1:59.34 – yes, you read that correctly, it dates back to 2018 when he was still an under 17 but admittedly he hasn't raced one since – Stonier wasn't complaining about being seeded in the B race but just grasped the opportunity with both hands and feet to smash that mark with 1:46.91.
That would have probably got him a prize for the biggest improvement of the night – if one was given – so no wonder the Invicta East Kent runner was happy.
"That was a pleasant surprise!" said Stonier.
"I have never really raced a serious 800m so was sort of hoping for around high 1:47/1:48 but to go under 1:47 is a real boost and great preparation for the Commonwealth Games.
"I'll now go to the holding camp at Loughborough and get ready to race at Birmingham where my aim will be to make the final. But it will be tough as the men's 1500m will be one of the strongest events on the track."
As she did at Watford Thackery set a remorseless pace at the front of the women's 5000m that proved to be too much for her rivals. Australian Georgia Hansen, a recent 8:47 performer over 3000m, bravely stuck with her through 3000m (9:02) but that effort took its toll on what was her debut at the distance and she faded to finish seventh.
Thackery, though, didn't falter and in splendid isolation, lapping the back markers, she powered to the finish line in 15:02.55 to shave 3.81secs off her PB time set at Watford.
"Yes, I wanted to go under 15 minutes but I have to be happy with that," said Thackery.
"I have been doing some great PB sessions in training and I feel I am getting stronger and stronger. I'm so excited about racing at the Commonwealth Games.
"I could just do with a good night's sleep because it has been so hot recently I've not been able to do that!"
Edinburgh AC's Eloise Walker finished very strongly to claim second in a PB of 15:25.21, one of 11 of the 20-strong field who were rewarded with lifetime bests, including obviously Hansen.
"I just love this set-up and it was a great experience to race here so many thanks for the BMC for having me and the other Australians, we really appreciate it," said Hansen.
Other Commonwealth Games bound runners at Trafford included Piers Copeland and Samantha Harrison. Copeland will represent Wales in the 1500m so was looking for a sharp work-out in the men's 800m A but unfortunately he got bumped and clipped just after the bell and ended up stumbling into the in-field and out of the race.
Samantha Harrison will run the 10,000m for England and she finished fourth in the 5000m (15:35.94), outside her PB of 15:22.29.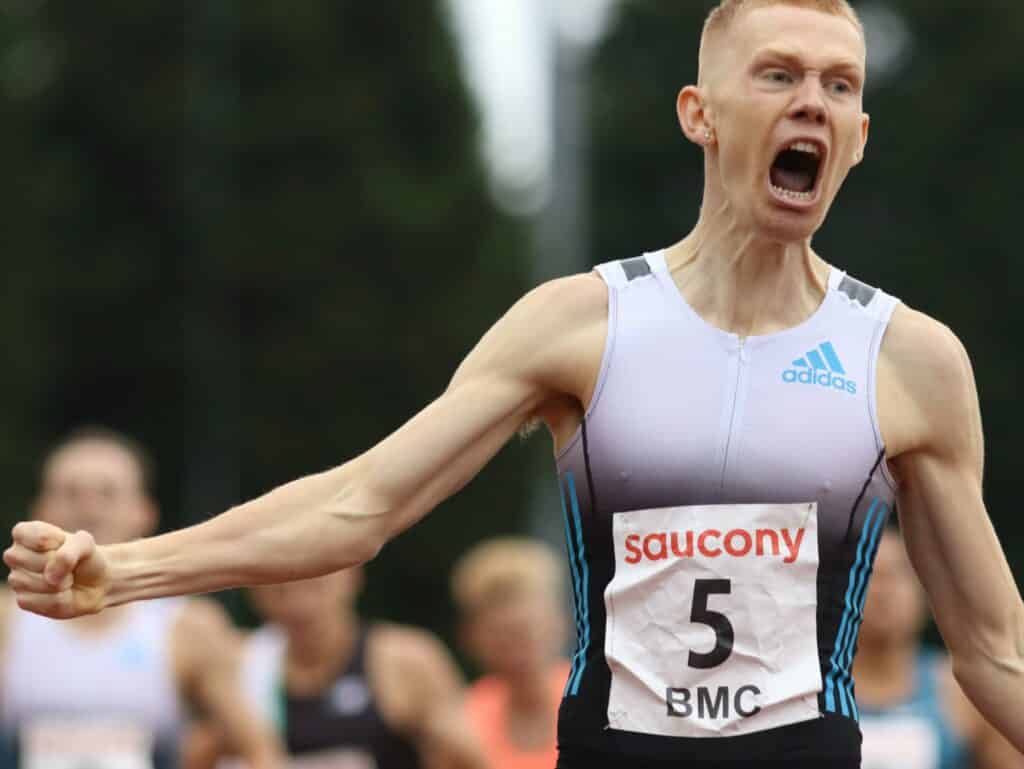 800M
Isabelle Boffey secured her second Grand Prix win of the season having also won at Birmingham University in May and  it proved to be another hard race as she had to dig deep to hold off Australian Sarah Billings as the pair battled down the home straight to clock 2:02.84 and 2:03.09 respectively, the latter a PB for the overseas visitor.
"I'm now looking for some good races in September to try and get my PB down," said Boffey, whose best of 2:01.24 was last summer.
Harrogate junior Eleanor Colbourn won the B race and there were PBs for the C, D and E race winners – Lucy Holmes (2:07.70), Isabelle Burke (2:10.76) and teenager Katie Sandlands (2:14.35), with the latter particularly over-joyed at her success.
"I'm shocked!" said Sandlands, aged just 15 and a member of Fife AC.
"I took two seconds off my PB when I raced her a few weeks ago (July 12th) and now another four seconds. It was well worth the four-and-a-half hours drive from Fife (courtesy of mum).
"This is a fast track for me!"
A huge men's entry saw nine 800m races and on top of the drama in the A and B events there were also PBs for Eddie Hunter (1:51.63) and Ethan O'Shea (1:52.69) as they won the E and F races.
1500M
Another vey happy runner was Hannah Nuttall as she broke 4mins 10secs for the first time with a winning time of 4:09.69.
"That is my first Grand Prix A race win and I'm so happy," said Nuttall, as she collected her £500 cheque.
"I really wanted to go sub 4.10 so I stuck with the pacemaker and kept going. I didn't realise I was so far clear; I was just concentrating on trying to win."
Nuttall may have finished almost five seconds clear of runner-up Niamh Bridson Hubbard but such was the pull of her determined front-running display that six of the next nine women clocked personal bests and the other three notched up season bests times.
"Conditions were unreal for fast running!" added Nuttall, who has just returned from a spell of training in San Moritz.
Which, of course, is what meeting director Steve Green invariably promises to runners who make the trip to Manchester.
"It is a fast track and we have had some great times here this summer, not just this evening but also recently with Laura Muir when she came down and ran 1:57.23 last month," said Green. "And the weather is usually pretty kind to us!"
In contrast to Nuttall's runaway win Phil Norman had to virtually launch his body across the line to win the men's race as he caught leader Ian Crowe-Wright and James Young in the dying metres of a hard-fought race.
But that lunge on lactic-filled legs was well worth it as the GB international steeplechaser smashed his PB of 3:41.20 with 3:39.89.
"Running sub 3mins 40secs for the first time was always the target and I just managed to find that little bit extra having had to work hard to close the gap on the leaders," said Norman.
Obviously, steeplechase remains his main event and Norman is hoping he'll get the nod for the Europeans when the team is announced.
"I'm ranked second in the country, was second in the trials and have done the qualifying standard of 8:30 four times this season as well," he added.
"I feel I am in sub 8mins 20secs shape but just had a lot of bad luck with first Covid and then illness that have held me back."
Again behind Norman the PBs came thick and fast, including for Crowe-Wright who is coached by a certain Geoff Wightman, who has been in the news a lot this past week.
Indeed, seven of the top eight notched up lifetime bests while the top 11 all broke 3mins 42secs. They included U20 Ethan Hussey who went 7th on the UK all-time list and narrowly missed the BMC U20 record. It's a performance though which will give him great confidence as he attempts the 800m, 1500m double in the World U20 championships.
Likewise Samuel Charig, Jack Gumm, Oliver Smart, David Holman and Ethan Brady-Jones all ran PBs as they won the B, D, E, F and G races respectively.
Only C race winner David Proctor prevented a clean sweep but the recently-crowned World Masters M35 1500m champion could be forgiven for not getting close to his lifetime best of 3:41.5 though he did deliver a performance of huge determination as he edged out Matt Clowes after a dogged battle down the home straight with both men awarded the same time.
"I have must have been the oldest guy in the race so I'm pleased with that," said Proctor.
"I'm training and racing with all the younger guys in Norman's (Poole) group and that is keeping me fit and if I can keep it together and my hamstrings hold up maybe I can have a go at some of Anthony Whiteman's British masters records."
The winners of the women's B and C races, U17 Jess Bailey (4:22.56) and junior Olivia Martin (4:29.30) respectively, also clocked PBs.
"I'm pretty happy with my season and it has been great to use the BMC events to improve my personal bests," said Bailey.
5000m
Jacob Cann made it two wins out of two on the GP circuit – he also won at SportCity with a PB of 13:58.66 – as he was rewarded for following the pace-making and striking out on his own
"I certainly wasn't expecting to win tonight and while I would have loved to have gone sub 14 minutes again I'm pleased with the win, which is my second this season," said Cann.
At one stage Cann had opened a huge lead but the battle between Alfie Manthorpe and Lewis Jagger reduced that dramatically in the closing stages as they both ran lifetime bests of 14:04.57 and 14:04.93 respectively.
Christian Graham's decision to make the trip down from Edinburgh was fully rewarded as she smashed his PB by almost 20 seconds.
Graham stuck like a limpet to the pacemaker as he went off at 14:10 pace while the field held back and when left on his own the Lasswade runner maintained his form well to clock 14:21.07 – over 16 seconds clear of runner-up Jamie Burns.
"I knew I could go quicker than my previous PB of 14:40 as I have run 14:20 on the road since then but it was crazy how much harder it felt when I was left out on my own just chasing my shadow," said Graham.
"That was tough but I stuck to it and it proved a good decision to come down here for the race."
3000m STEEPLECHASE
Will Battershill ended his steeplechase season with his first Grand Prix win and then revealed he'll be chasing personal bests on the flat from here on in.
"I think I'm mentally done with the 'chase this summer and now I'll be looking to run some PBs over shorter distances," said Battershill, after winning comfortably in 8:42.12.
"I came here hoping for a sub 8mins 30secs so the final time was disappointing but it was still a good, hard run and it was good practice to be out there in the front and work on my hurdling. I'm happy with the victory."
Mark Pearce never gave up the chase in second but had to be content with 8:49.76, well outside his lifetime and season's best as well.
"It's been a great year for British distance runners, peaking this week, with Jake Wightman's World 1500m gold, plus Keely Hodgkinson Silver and Laura Muir's 1500m bronze. The performances especially from Ben, Calli and the 800m guys especially underline this new found confidence in British distance running," said meet director Steve Green. 
"Thanks to all the athletes, officials and helpers involved," added Green.
Updated 25.07.22