Male Athlete of 2022 – Jake Wightman
Jake was 2nd in the 1500m F race at that Sport City Grand Prix in 2012, one of the 24 BMC races in his career to date.  Jake has been reaching global finals since 2017 but a disappointing performance in Tokyo 2021 lead to a change of approach and a new PB of 7:50.97 over 3000m in a BMC race in Sheffield in January 2022.   Jake went on to have an amazing year, becoming World 1500m Champion, European 800m silver medallist and Commonwealth 1500m bronze medallist, and setting new PBs of 1:43.65 and 3:29.23.
Female Athlete of 2022 – Laura Muir
Coached by Andy Young, Laura's first BMC race was in 2012 when she placed 9th in the 1500 at Sport City Grand Prix in 2012. Since then, she has become a global superstar.  In 2022 she won gold at both the Commonwealth Games and the European Championships at 1500m, as well as taking 1500m Bronze at the World Championship and 800m Bronze at the Commonwealth's.  Back in June she set a new BMC 800m record of 1:57.23 in a mixed race at Stretford, to add to the 3000m and 5000m records that she already held.  Laura described her Trafford race as 'break through moment for me this season and really helped my confidence going into a busy summer'.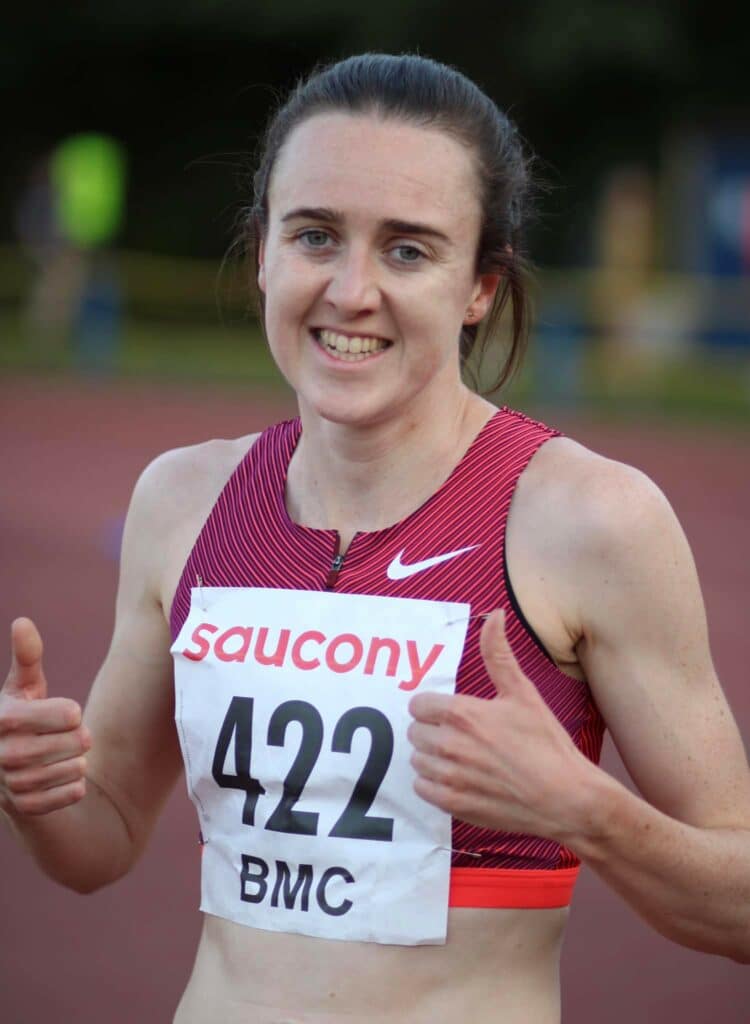 Junior Male Athlete of 2022 – Ethan Hussey
Coached by Andy Henderson, Ethan has run 34 BMC races so far in his career, his first being in 2014.   He first broke 1:50 in 2019 at Stretford.  In 2022 Ethan set new PBs of 1:46.51 and 3:40.71 in BMC races.   Both these times put Ethan second on the BMC U20 all-time list. He then went to the World U20 Championship where he got a bronze medal in the 800m and then set a further PB of 3:39.60 for 6th in the 1500m
Junior Female Athlete of 2022 – Abigail Ives
Abigail won her first BMC 800m race at the BMC lockdown meeting at Lee Valley in 2020 in a time of 2:12.76.  She then won two more 800m races at Gillingham (2:10.69) and Loughborough (2:04.12) in 2021 and before her breakthrough in 2022 when she ran a world U20 qualifying time (2:04.61) indoors at Lee Valley followed by new personal bests in the BMC Grand Prix events in Birmingham (2:02.02) and Loughborough (2:01.56).  This time ranks Abigail second on the BMC all-time U20 list. She placed 6th at the World U20 championships in Columbia after winning her semi-final.  Coached by Luke Gunn, Abigail is looking forward to breaking two minutes in 2023.
Coach of the year – Geoff Wightman
Geoff was a successful 2-13marathon runner who represented England in the 1990 Auckland Commonwealth Games finishing 8th.
He has coached his son, Jake, for over 12 years. The highlight of his coaching career was Jake winning the 2022 1500m World title in Oregon.
Geoff, is well read, has sought information from numerous well established international coaches.
This acquired knowledge is the backbone of his success. He is a great believer in the holistic approach with athletes having physical and mental strength and that they are flexible. 
This coaching approach supports the importance of changing pace throughout a race at the right time. Jake's performance at the Worlds saw these aspects come to fruition.
Geoff is now building a squad of good class athletes.
Lifetime Services to Coaching Award 2022 – Rod Lock
Rod is a level 4 performance coach and BMC Vice President with coaching success from 800 to marathon. He has been coaching for over 25 years with Southampton AC (he also supports Southampton Football club).
His athletes, many of them internationals, have won numerous medals and representative honours from 800m to World and European Cross-Country Championships and on the road
 Rod has been a regular coach at the BMC coaching weekends.
His coaching philosophy is based on multi -tier, multi -pace training with attention to individual coaching.
Over the years Rod has been a regular at BMC Grand Prix and regional meetings offering his wide experience , advice and wise words.
The Frank Horwill Award for Services to the BMC – Neville Taylor
The Frank Horwill award recognises outstanding contributions to the British Miler's Club and there can be few more deserving winners than Neville Taylor who is a previous winner of BMC coach of the year and lifetime coaching achievement awards.
Neville's first BMC involvement came in 1974 when it was natural for him to look towards Frank and Harry Wilson (Steve Ovett's coach) for early guidance and coaching qualifications. As part of the Committee through the 70s and 80s Neville organised races and was part of the BMC coaching team on courses around the country including Loughborough and the famous sand dunes of Merthyr Mawr. In 1979 Neville became vice-chairman.
During this time Neville was achieving considerable coaching success with the likes of Chris Sly and Gary Taylor having great results at national and European U20 level. The outstanding result for Neville's coaching came in 1984 when Wendy Sly took Olympic Silver in the Los Angeles Olympics. To date Neville has coached upwards of 30 internationals.
Later, when Neville was working for England Athletics, he looked to the BMC to be a partner in the delivery of coach education, resulting in some excellent and well attended weekends.
Neville returned to the BMC committee ten years ago and has made use of his extensive network to lead initiatives on coaching, finding new and innovative ways of supporting our coach members. This has covered face to face events such as last year's BMC day during the European Coaching conferences, the series of National Training days around the country and the coaching corners prior to our Grand Prix meetings. Under Neville's leadership BMC coach education is also now provided via coaching conference call and webinars.  
Neville has also been the lead on Sponsorship securing the partnerships that have delivered vital funding for our Grand Prix series and provided valuable benefits to our membership.