Races: 32
Finishers: 285
PBs: 161 (56%)
Power of Ten results: Here
Words – Kevin Fahey
Photos – David Lowes
WITH one national record, 10 championships qualifiers for the European Under 23 and Under 20s plus a total of 161 personal bests from 285 finishers in 32 races meeting director Steve Green has declared the Saucony British Milers Club Grand Prix at Manchester's Sportcity a huge success.
"Both myself and Norman Poole (joint director) are delighted with how it went last night," said Steve.
"It was great to see so many championships qualifying times recorded in the 800m races, led by Oliver Dustin in the A race.
"Then we had a brilliant run by Jess Judd to win the 1500m. Jess is a seasoned British international who has supported the BMC for years and that just goes to show that we cater not just for up-and-coming runners but also internationals like her as well.
"The atmosphere in the stadium was also great and it was lovely to see some spectators in there supporting the athletes again.
"And, of course, we laid on some beautiful Manchester weather as well!
"We had great support from Manchester Active and all their staff so overall I think we can say we have no complaints at all. It was a terrific BMC Grand Prix meeting."
The national record, on her debut in the event, went to 24-year-old Cardiff athlete Kate Seary in the women's 3000m steeplechase.
Seary, who is coached by former international Luke Gunn, finished runner-up in a time of 10mins 21.23secs to set a new Welsh record, clipping almost four seconds off Jade Williams' previous mark of 10:25.03 set at Loughborough in 2017.
"It is an incredible way to start my steeplechase career," said Seary.
"I have been told for years I should do it but I have been too stubborn. But I have loved the new challenge and I am so grateful to my coach Luke Gunn for teaching me his ways."
800m – JENNY JOY AT GP VICTORY – FINALLY!  DUSTIN GOES SUB 1:46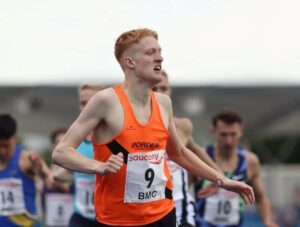 Of the championships qualifiers six of the ten came in the hotly contested 800m races with four of those in the men's A race.
Winner Oliver Dustin's PB of 1:45.71 was inside the European U23 Championship qualifying standard of 1min 47secs as were those of Thomas Randolph (1:46.60) and George Mills (1:46.68) behind him in third and fourth respectively.
In fifth was Ethan Hussey and the 18-year-old Leeds City runner clocked a PB of 1:46.78 in fifth place to not only dip well inside the Euro U20s qualifier of 1:49.00 but also move up to ninth on the UK All-Time list – just ahead of Dustin.
Henry Johnson in the 800m B race also achieved the European U20 standard with a PB of 1:48.72.
In the women's 800m races Harrogate teenager Eleanor Colbourne, still only 16, was stunned to discover that her lifetime best of 2:05.04 for third place in the A race was a European U20 qualifying time. It also puts her ninth in the UK All-Time U17 Rankings.
In the 1500m Remi Adebiyi (3:40.36) and Ben West (3:40.82) both achieved the Euro U23 standard of 3:41.00 while Kane Elliott (3:40.65) was well inside the Euro U20 target of 3:46.00 and broke the BMC U20 members record held by Adam Cotton.
As a measure of the quality of that run it lifts the Falkirk athlete to fifth in the UK All-Time U20 Rankings behind the likes of Graham Williamson, Niall Brooks and Steve Cram.
Finally in the men's 3000m steeplechase 19-year-old Shaftesbury Barnet Harrier Kristian Imroth dipped inside the Euro U20s standard of 9:10.00 with a big PB of 8:55.39, beating his previous best of 9:03.42 set two years ago.
SO for Oliver Dustin it was his second Grand Prix 800m A victory at the age of just 20 while for Jenny Selman it was her first – 13 years after she first competed in the series.
Selman's triumph in the Saucony sponsored event not only ended a long wait for that first triumph but also earned her the £200 bonus from the Best of British prize fund.
Perhaps more surprisingly at the age of 30 that persistence and dedication was also rewarded with a personal best of 2:02.16, finally eclipsing her seven-year-old mark of 2:03.54.
"I still feel quite young but when some of the other runners see that my PB was set in 2014 they think I must be so old!" said Selman, who set that original best as Jenny Tan.
"But plenty of girls in their 30s are running fast times and that gives me hope."
Selman stepped up to the 1500m for a few years after persistent problems with her Achilles tendon but feels the extra stamina and strength work has benefited her two-lap performances.
"I'm definitely not as quick as I used to be but I am stronger," added Selman.
"I used to die coming down the home straight but last night I felt really strong. That was my first outdoors 800m of the summer so I feel that with another one or two I can go faster and I definitely think there is a 2:01 there this summer.
"I'm definitely now thinking 'Why not?'"
Dustin's victory in the men's A race, which earned him £500 for victory and breaking 1min 46secs, was less of a surprise as he started favourite on a track where he won his first GP A race two years ago to kick-start a fabulous summer which saw him crowned European Under 20 800m champion.
Now two years older and wiser his sights have moved up the European Under 23 Championships in Norway later this summer and his sparkling PB of 1:45.71, breaking 1min 46secs for the first time, was well inside the qualifying standard of 1:47.00.
"The main target this season is the European Under 23s and now I am trying to get myself into a fast race in a few weeks' time and knock on the door of the qualifying time (for the Olympics, standing at 1:45.20)," said Dustin.
"Hopefully I can be back in Manchester in four weeks for the Olympic trials."
Dustin hasn't ruled out the Watford Grand Prix on June 12th, another meeting with good memories as his previous PB of 1:46.84 was set there in 2019 when winning the B race.
He'll stand a pretty good chance of getting an invite to the A race after his latest performance though he wasn't entirely happy with how the race developed.
"Overall it was a bit scrappy and I got boxed in down the back straight but I am happy with the PB," added Dustin.
And his kick to overtake Kyle Langford, who had taken the pace on having found himself at the front, was impressive. Former World Championships runner Langford wasn't entirely unhappy with his run and feels he is on an upward curve.
"The last 100 metres is not there yet but I am showing progression in each race," said Langford. "I feel I am in better shape than that."
To underline the quality of the race and the fabulous racing conditions seven of the nine finishers recorded lifetime bests in the A event with Ethan Hussey as top junior particularly impressing as his 1:46.78 propelled him to ninth on the UK All-Time Under 20 List.
Remarkably of the eight men's races seven were won in lifetime bests while the six female race winners all notched up PBs.
1500m
MAX WHARTON smashed his personal best right out of the Sportcity Stadium and into the Etihad Stadium next door with one of the best performances on the night at the Saucony BMC Grand Prix.
The 24-year-old came into the race in decent form having posted a PB of 1:47.24 at the Trafford GP meeting but with a lifetime best of 3:46.72 dating back to the BMC meeting at Nuneaton last autumn he wasn't among the race favourites.
But in just 3mins 39.68secs Wharton re-wrote the script entirely as he took advantage of favourite Ossama Meslek getting tripped at the bell and failing to finish to claim his first BMC GP A victory.
"When I saw that time I was pretty shocked," admitted Wharton.
"I was lucky to avoid the mess at the bell and while Remi (Adebiyi) came by me I still felt very strong and confident and knew I would have it in the last 100 metres."
Wharton has previously focussed on racing 800m, for which he is entered at Watford next month, but concedes his future may now lie with the longer event.
But for now he is just very happy to be back racing well.
"It is like I am back from the wilderness because I did start having my doubts on whether to continue in the sport or focus upon my career," added Wharton.
"But deep down I knew I hadn't realised my potential and now I am really enjoying my running again."
Wharton wasn't the only athlete to enjoy last night's 1500m as the top five all clocked lifetime bests, three of them being under 23 and the other outstanding junior Kane Elliott whose time of 3:40.65 was a BMC Under 20 record.
If Wharton's win came as a surprise then Jess Judd's triumph was rather more predictable.
None of her rivals could love with the British international's pace as she surged clear once the pacemaker had dropped out and in her normal, fearless style drove on to win in a time of 4mins 07.94secs.
That not only left her 10 seconds clear of the field but was also her fastest 1500m time for three years.
It continued the 26-year-old's super start to the season with a personal best over 5000m (15mins 06.02secs) and an impressive debut over 10,000m (31:25.98) in a glorious five-day spell in California at the start of the month.
Of particular significance was that 5000m time as it was inside the Olympic Games qualifying standard of 15:10.00; conversely Judd fell an agonising 0.98secs short of the standard for the longer distance.
It was Judd's second BMC race of the season having already won the 3000m (8:52.73) at the Gold Standard meeting at Birmingham University last month in a BMC all-female record time.
"I felt really tired on the last lap but it was really fun," said Judd. "I owe a lot to the BMC and it is great to have them back and running again."
It was a good sharpener for Judd ahead of the Muller British Athletics Championships, incorporating the Olympic trials and European 10,000 Cup at Birmingham University on Saturday (June 5th).
Interestingly the first five in all the men's B-H races all recorded PBs on the evening, a feat also matched in the women's B-D races.
5000, 3000 STC, 400
WITH two victories in seven days and both in personal bests it hasn't been a bad week at all for 3000m steeplechaser Sarah Tait.
The 20-year-old Lasswade athlete opened up with victory at the Loughborough International clocking a time of 10:28.17 to smash her debut time of 11:08.46 set two years ago.
Fast forward to last night and Tait showed no ill effects as she got the better of debutant Kate Seary after the pair enjoyed a terrific battle, pulling clear on the final lap to win in 10:16.95.
That time was outside the European Under 23 qualifying standard of 10:00.00 but it lifted Tait to sixth in the UK Rankings and clearly she is on an upward path.
"I didn't run a steeplechase last year so my best was only 11:08 from two years ago so I have taken off a big chunk from that and hopefully there is still more to come this summer," said Tait.
"It was my first Grand Prix victory and I was shocked but delighted to get a £200 cheque for winning. It was a nice wee surprise."
Seary never gave up the chase on that final lap and can be hugely encouraged by her time of 10:21.23, which was a Welsh record.
To complete a good day for the Tait family twin brother Magnus clocked a PB of 9:09.94 for seventh place in the men's A race.
That event was won by Wales international Jonathan Hopkins, who ran away from the field to finish 12 seconds clear in 8:36.50, which puts him sixth on the UK Rankings.
"It was a tough race and I felt it in the last 800 metres but that is probably the fastest 3k chase I have opened a season with and won as well so pretty happy with that," said the Swansea Harrier.
"The main goals this summer are to run the qualifying time for Wales for the Commonwealth Games next summer and get under 8mins 30secs so I can compete for a medal at the British Championships back here."
In fourth Kristian Imroth's big PB of 8:55.59 was well inside the European Under 20 Championships qualifying standard of 9:10.00. Seven of the 11 finishers recorded lifetime bests.
Fifth at the Trafford Grand Prix event Derby's Hugo Milner improved to top spot last night with a PB of 13:52.63 to edge out Ireland's Eoin Everard (13:58.47).
"People said I looked good out there but I didn't feel it!" said Miler.
"I'm running the Olympic trials next week so have to put two of those together but I'll give it my best shot."
The first three in the women's race all recorded lifetime bests with Stephie Pennycook leading the way in some style on 16:11.10 followed by Lauren McNeil (16:29.15) and Sally Ratcliffe (16:33.78).
Finally in the 400m races there were wins for Lee Thompson (46.40), with 800m specialist Alex Botterill clocking a PB of 48.44 in third while Victoria Ohuruogu fastest woman (54.04).
| | | | | | |
| --- | --- | --- | --- | --- | --- |
| | Race : 19 | | | BMC 800m A (Mens) | |
| | | | | | |
| Posn | Vest No. | Leg No. | Time | Name | Club |
| 1 | 9 | 2 | 01:45.71 | Oliver Dustin U23 | Border |
| 2 | 13 | 6 | 01:46.32 | Kyle Langford | Shaftesbury Barnet |
| 3 | 16 | 9 | 01:46.60 | Thomas Randolph U23 | Tamworth / St. Mary's Uni |
| 4 | 10 | 3 | 01:46.68 | George Mills U23 | Brighton Phoenix / Brighton Uni |
| 5 | 14 | 7 | 01:46.78 | Ethan Hussey U20 | Leeds City |
| 6 | 17 | 10 | 01:47.28 | Tiarnan Crorken U23 | Preston / Liverpool John Moores U |
| 7 | 8 | 1 | 01:47.48 | Rocco Zaman-browne U23 | Manchester H |
| 8 | 15 | 8 | 01:49.04 | Joe Ewing U20 | Edinburgh Ac |
| 9 | 11 | 4 | 01:49.72 | David Locke U20 | Cardiff / Loughborough Students |
| | . | | | | |
| | . | | | | |
| | Race : 6 | | | BMC 800m B (Mens) | |
| | | | | | |
| Posn | Vest No. | Leg No. | Time | Name | Club |
| 1 | 25 | 8 | 01:48.54 | Andrew Smith | Leeds City / Leeds Beckett Uni |
| 2 | 23 | 6 | 01:48.72 | Henry Johnson U20 | Houghton Harriers |
| 3 | 24 | 7 | 01:48.85 | William Onek | Sale Harriers Manchester |
| 4 | 26 | 9 | 01:49.16 | Luca Bigg U23 | Brighton Phoenix |
| 5 | 22 | 5 | 01:49.74 | Ben Claridge | Abingdon / Bath Uni |
| 6 | 32 | | 01:50.24 | Shaun Gee | Sale H |
| 7 | 19 | 2 | 01:51.39 | Jack Hallas | Birchfield H / Leeds Beckett Uni |
| 8 | 18 | 1 | 01:51.74 | Patrick Taylor | Birchfield H / Birmingham Uni |
| | . | | | | |
| | . | | | | |
| | Race : 17 | | | BMC 800m C (Mens) | |
| | | | | | |
| Posn | Vest No. | Leg No. | Time | Name | Club |
| 1 | 31 | 5 | 01:49.68 | Jack Dickson U20 | Kingston & Poly |
| 2 | 35 | 9 | 01:50.17 | Tyler Bilyard U23 | City Of Norwich |
| 3 | 33 | 7 | 01:50.38 | Joseph Morrison U23 | West Cheshire / Chester Uni |
| 4 | 27 | 1 | 01:50.70 | James Fradley | Newcastle (staffs) |
| 5 | 30 | 4 | 01:50.91 | Ben Brunswick | Sale Harriers Manchester / Manche |
| 6 | 28 | 2 | 01:51.72 | Najib Hassan U23 | Sale Harriers Manchester / Nether |
| 7 | 29 | 3 | 01:53.08 | Victor Nutakor | Newham & Essex Beagles |
| | . | | | | |
| | . | | | | |
| | Race : 7 | | | BMC 800m D (Mens) | |
| | | | | | |
| Posn | Vest No. | Leg No. | Time | Name | Club |
| 1 | 44 | 8 | 01:50.06 | Lewis Hainey U20 | Inverclyde |
| 2 | 43 | 7 | 01:50.27 | Ben Potrykus | Inverclyde |
| 3 | 37 | 1 | 01:50.99 | Thomas Baines U23 | Bristol & West / Bristol Uni |
| 4 | 39 | 3 | 01:51.47 | Matthew Linsley | Gateshead / Northumberland Schs |
| 5 | 42 | 6 | 01:51.51 | Joseph Rogers | Halesowen / Nottingham Trent Uni |
| 6 | 41 | 5 | 01:51.92 | Ben Waterman | Ealing Southall & Middx / Run Fas |
| 7 | 38 | 2 | 01:55.75 | Cameron Steven U23 | Lasswade |
| | . | | | | |
| | . | | | | |
| | Race : 9 | | | BMC 800m E (Mens) | |
| | | | | | |
| Posn | Vest No. | Leg No. | Time | Name | Club |
| 1 | 52 | | 01:51.63 | Jake Minshull U17 | Coventry |
| 2 | 47 | | 01:51.63 | Mitchel Cox U23 | Shaftesbury Barnet / St. Mary's U |
| 3 | 48 | 4 | 01:52.68 | Jonny Stock U20 | Trafford |
| 4 | 53 | 9 | 01:52.74 | Michael Ferguson | Aberdeen / Aberdeen Uni / Banchory |
| 5 | 46 | 2 | 01:52.94 | Charles Crick U23 | Tonbridge |
| 6 | 50 | 6 | 01:53.15 | Luke Minns | Blackpool  Wyre & Fylde / Central |
| 7 | 45 | 1 | 01:53.32 | Cameron Reid U23 | Chiltern |
| 8 | 51 | 7 | 01:54.27 | Sam Brown Araujo  U23 | Oxford Uni |
| 9 | 49 | 5 | 01:55.55 | Finn Harvey U23 | Shaftesbury Barnet / Tonbridge |
| | . | | | | |
| | . | | | | |
| | Race : 10 | | | BMC 800m F (Mens) | |
| | | | | | |
| Posn | Vest No. | Leg No. | Time | Name | Club |
| 1 | 59 | 6 | 01:52.97 | Maximilian Buckley U23 | Thames Valley / Oxford Uni |
| 2 | 57 | 4 | 01:53.26 | Finlay Hutchinson U20 | Notts |
| 3 | 62 | 9 | 01:53.98 | Jamie Webster U20 | Bedford & County / London Schs |
| 4 | 54 | 1 | 01:54.69 | Cameron Enser U20 | Bracknell Ac |
| 5 | 61 | 8 | 01:55.43 | Alistair Douglass | Morpeth / Teeside Uni |
| 6 | 58 | 5 | 01:55.98 | Scott Armstrong U23 | Durham / Durham Uni |
| 7 | 60 | 7 | 01:59.61 | Elliot Savage U17 | Sale Harriers Manchester |
| | . | | | | |
| | . | | | | |
| | Race : 16 | | | BMC 800m G (Mens) | |
| | | | | | |
| Posn | Vest No. | Leg No. | Time | Name | Club |
| 1 | 66 | 4 | 01:53.65 | Charlie Roberts U20 | St. Helens Sutton |
| 2 | 64 | 2 | 01:53.93 | Ryan Elston U20 | Charnwood |
| 3 | 65 | 3 | 01:54.36 | Luke Richardson U20 | Bromsgrove & Redditch |
| 4 | 63 | 1 | 01:54.83 | Oliver Park | Cambridge & Coleridge |
| 5 | 70 | 8 | 01:55.10 | Fabian Despinoy U20 | Edinburgh Ac |
| 6 | 69 | 7 | 01:55.32 | Kieron Sexton | Thames Valley / Crusaders / Ireland |
| 7 | 67 | 5 | 01:55.99 | Adetomiwa Oladiti U23 | Sale Harriers Manchester / Hudder |
| | . | | | | |
| | . | | | | |
| | Race : 11 | | | BMC 800m H (Mens) | |
| | | | | | |
| Posn | Vest No. | Leg No. | Time | Name | Club |
| 1 | 75 | 5 | 01:55.08 | Mackenzie Woodward U20 | Liverpool H |
| 2 | 76 | 6 | 01:56.07 | Harry Roffey U20 | Sheffield & Dearne / Millfield Sc |
| 3 | 74 | 4 | 01:56.51 | Sam Flaherty U20 | Liverpool H |
| 4 | 73 | 3 | 01:56.69 | Euan Hood U23 | Lasswade / Stirling Uni |
| 5 | 77 | 2 | 01:58.62 | Finley Mayoh U17 | Stockport |
| | . | | | | |
| | . | | | | |
| | Race : 18 | | | BMC 800m A (Womens) | |
| | | | | | |
| Posn | Vest No. | Leg No. | Time | Name | Club |
| 1 | 79 | 2 | 02:02.16 | Jenny Selman | Fife / Dundee Uni |
| 2 | 82 | 5 | 02:02.95 | Jenna Bromell | Ireland |
| 3 | 81 | 4 | 02:05.04 | Eleanor Colbourn U17 | Harrogate |
| 4 | 80 | | 02:05.57 | Sabrina Sinha U23 | Cambridge H / Birmingham Uni |
| 5 | 85 | 8 | 02:05.82 | Olivia Vareille U23 | Falkirk / Edinburgh Uni |
| 6 | 83 | 6 | 02:06.40 | Amy O'donoghue | Emerald / Ireland |
| 7 | 84 | 7 | 02:07.54 | Amy Griffiths | Aldershot  Farnham & District / L |
| 8 | 86 | 9 | 02:09.85 | Mhairi Hendry | Victoria Park City Of Glasgow / S |
| | . | | | | |
| | . | | | | |
| | Race : 5 | | | BMC 800m B (Womens) | |
| | | | | | |
| Posn | Vest No. | Leg No. | Time | Name | Club |
| 1 | 91 | 5 | 02:06.72 | Jill Cherry | Victoria Park City Of Glasgow / G |
| 2 | 94 | 8 | 02:08.29 | Beth Ansell | Sheffield & Dearne / Manchester U |
| 3 | 88 | 2 | 02:08.53 | Lizzie Harris | Cardiff / Cardiff Uni |
| 4 | 89 | 3 | 02:08.79 | Tamsin Mcgraw U23 | Amber Valley & Erewash / Sheffiel |
| 5 | 87 | 1 | 02:09.15 | Ty Brockley-langford U20 | Salford H / Trafford |
| 6 | 93 | 7 | 02:10.77 | Charlotte Buckley U20 | Thames Valley |
| 7 | 92 | 6 | 02:10.79 | Saskia Huxham U23 | Hallamshire / Durham Uni |
| 8 | 90 | 4 | 02:12.96 | Bethan Morley U23 | Leeds City |
| | . | | | | |
| | . | | | | |
| | Race : 13 | | | BMC 800m C (Womens) | |
| | | | | | |
| Posn | Vest No. | Leg No. | Time | Name | Club |
| 1 | 97 | 2 | 02:07.78 | Ella Greenway U17 | Cleethorpes |
| 2 | 98 | 3 | 02:07.91 | Katie Johnson U17 | Edinburgh Ac |
| 3 | 96 | 1 | 02:08.73 | Iris Downes U17 | Shrewsbury |
| 4 | 101 | 6 | 02:09.79 | Ellie Farrow U23 | City Of Portsmouth |
| 5 | 103 | 8 | 02:11.90 | Alice Bennett U17 | Kettering |
| 6 | 100 | 5 | 02:11.97 | Sarah Coutts U20 | Fife |
| 7 | 99 | 4 | 02:12.65 | Keira Brady-jones U17 | Wirral |
| | . | | | | |
| | . | | | | |
| | Race : 14 | | | BMC 800m D (Womens) | |
| | | | | | |
| Posn | Vest No. | Leg No. | Time | Name | Club |
| 1 | 106 | 3 | 02:11.36 | Niamh Carr U23 | Edinburgh Uni / Ballymena & Antri |
| 2 | 107 | 4 | 02:13.12 | Annie Testar U20 | Stroud |
| 3 | 104 | 1 | 02:13.52 | Eilidh Gibson U20 | Kilbarchan / Loughborough Student |
| 4 | 105 | 2 | 02:13.97 | Alex Mundell | Imperial / Thames Valley |
| 5 | 109 | 6 | 02:14.26 | Ruby Bell U20 | Sale Harriers Manchester |
| | . | | | | |
| | . | | | | |
| | Race : 8 | | | BMC 800m E (Womens) | |
| | | | | | |
| Posn | Vest No. | Leg No. | Time | Name | Club |
| 1 | 113 | 3 | 02:12.10 | Shen Wigfield-turner U20 | Hallamshire |
| 2 | 115 | 5 | 02:12.58 | Holly Watson U17 | Chelmsford |
| 3 | 112 | 2 | 02:14.38 | Erin Grime U20 | Salford H / Trafford |
| 4 | 116 | 4 | 02:16.40 | Valentina Costa U20 | Derby |
| 5 | 114 | 6 | 02:16.71 | Zoe Doyle V40 | Wycombe / Veterans |
| 6 | 111 | 1 | 02:27.84 | Sophia Malpass U20 | Telford Ac |
| | . | | | | |
| | . | | | | |
| | Race : 15 | | | BMC 800m F (Womens) | |
| | | | | | |
| Posn | Vest No. | Leg No. | Time | Name | Club |
| 1 | 118 | 2 | 02:14.20 | Erin Macfarlane U17 | Pitreavie |
| 2 | 117 | 1 | 02:15.57 | Mackenzie O'dea U17 | Yeovil / Wells City |
| 3 | 120 | 4 | 02:18.70 | Sebastienna Bairstow U17 | Harrogate |
| 4 | 119 | 3 | 02:25.90 | Charlotte Burrows U20 | Telford Ac |
| | . | | | | |
| | . | | | | |
| | Race : 27 | | | BMC 1500m A (Mens) | |
| | | | | | |
| Posn | Vest No. | Leg No. | Time | Name | Club |
| 1 | 124 | 4 | 03:39.68 | Max Wharton | Halifax |
| 2 | 135 | 15 | 03:40.36 | Remi Adebiyi U23 | Newport / Bath Uni |
| 3 | 129 | 9 | 03:40.65 | Kane Elliott U20 | Falkirk |
| 4 | 126 | 6 | 03:40.82 | Benjamin West U23 | Mk Distance Project |
| 5 | 130 | 10 | 03:41.13 | John Howorth U23 | Team Bath / Cardiff Uni |
| 6 | 128 | 8 | 03:42.58 | Thomas Keen U23 | Cambridge & Coleridge / Birmingha |
| 7 | 133 | 13 | 03:42.97 | David Mullarkey U23 | Manx / Leeds Beckett Uni |
| 8 | 125 | 5 | 03:43.79 | Luke Duffy U23 | Mansfield / Loughborough Students |
| 9 | 121 | 1 | 03:44.00 | Ben Macmillan U23 | Central |
| 10 | 127 | 7 | 03:46.72 | Guy Smith | Swansea / Cardiff Uni |
| 11 | 123 | 3 | 03:49.25 | Kian Davis U23 | Preston / Oklahoma State Uni |
| 12 | 122 | 2 | 03:51.55 | Michael Wilson | Sunderland |
| | . | | | | |
| | . | | | | |
| | Race : 26 | | | BMC 1500m B (Mens) | |
| | | | | | |
| Posn | Vest No. | Leg No. | Time | Name | Club |
| 1 | 143 | 8 | 03:42.58 | Matthew Stonier U23 | Invicta East Kent |
| 2 | 148 | 13 | 03:44.16 | Simon Coppard U23 | Tonbridge / Loughborough Students |
| 3 | 141 | 6 | 03:44.51 | James Donald | Dundee Hawkhill |
| 4 | 147 | 12 | 03:46.32 | Jack Patton U20 | Kilbarchan |
| 5 | 149 | 14 | 03:46.81 | Blake Moore | Windsor Slough Eton & Hounslow |
| 6 | 144 | 9 | 03:48.03 | James Mccrae | Hallamshire |
| 7 | 151 | 16 | 03:48.60 | Alex Burrows | Telford Ac |
| 8 | 146 | 11 | 03:48.65 | Daniel Cheeseman | City Of York / St. Mary's Uni |
| 9 | 139 | 4 | 03:50.86 | Ethan O'shea U20 | Charnwood / Birmingham Uni |
| 10 | 138 | 3 | 03:51.16 | Alex Ediker U23 | Chesterfield |
| 11 | 136 | 1 | 03:52.27 | Alex Tovey | Birchfield H / Birmingham Uni |
| 12 | 137 | 2 | 03:56.75 | Aaron Phelps | Stroud |
| 13 | 145 | 10 | 04:03.73 | Benjamin Reynolds U20 | Cardiff |
| | . | | | | |
| | . | | | | |
| | Race : 20 | | | BMC 1500m C (Mens) | |
| | | | | | |
| Posn | Vest No. | Leg No. | Time | Name | Club |
| 1 | 161 | 10 | 03:47.49 | David Race U20 | Gateshead |
| 2 | 157 | 6 | 03:49.36 | William Broom U23 | Chichester / Loughborough Student |
| 3 | 156 | 5 | 03:49.38 | George Watson U23 | Loughborough Students / Cheltenha |
| 4 | 154 | 3 | 03:50.11 | Joshua Dickinson U23 | Leeds City |
| 5 | 163 | 12 | 03:50.76 | Mark Bostock U23 | Wakefield / Leeds Beckett Uni |
| 6 | 155 | 4 | 03:51.35 | Daniel Joyce U20 | Tynedale |
| 7 | 160 | 9 | 03:51.50 | Daniel Brookling U23 | Windsor Slough Eton & Hounslow / |
| 8 | 162 | 11 | 03:51.86 | Andy Benson | Preston |
| 9 | 152 | 1 | 03:52.08 | Sam Costley U23 | Southampton / Loughborough Studen |
| 10 | 158 | 7 | 03:53.11 | Jamie Mackinnon U23 | Cambuslang |
| 11 | 159 | 8 | 03:53.42 | Dan Galloway U17 | Telford Ac |
| 12 | 164 | 13 | 03:57.52 | Thomas Archer U20 | London Heathside / Essex Schs |
| | . | | | | |
| | . | | | | |
| | Race : 21 | | | BMC 1500m D (Mens) | |
| | | | | | |
| Posn | Vest No. | Leg No. | Time | Name | Club |
| 1 | 174 | 10 | 03:50.33 | Oliver Newman U23 | Cambridge & Coleridge / Birmingha |
| 2 | 173 | 9 | 03:51.16 | Alex Hampson | Heanor |
| 3 | 168 | 4 | 03:52.09 | Liam Rawlings U20 | Shrewsbury |
| 4 | 166 | 2 | 03:52.16 | Kian Wiles U20 | Barton & District Ac |
| 5 | 172 | 8 | 03:52.38 | Joe Blacknell U23 | Aldershot  Farnham & District / B |
| 6 | 175 | 11 | 03:53.15 | Peter Cameron | Edinburgh Ac / Cambridge Uni |
| 7 | 170 | 6 | 03:53.37 | Daniel Racle U23 | Altrincham / Loughborough Student |
| 8 | 169 | 5 | 04:00.63 | Owen Miller | Fife |
| 9 | 178 | 14 | 04:01.48 | Charlie Hobson U20 | Sale Harriers Manchester |
| | . | | | | |
| | . | | | | |
| | Race : 28 | | | BMC 1500m E (Mens) | |
| | | | | | |
| Posn | Vest No. | Leg No. | Time | Name | Club |
| 1 | 190 | 12 | 03:51.24 | Freddy Richardson U23 | Colchester & Tendring |
| 2 | 188 | 10 | 03:51.62 | Robert Smyk U23 | Salford H |
| 3 | 179 | 1 | 03:52.26 | Alexander Thompson U20 | Wharfedale / Bingley |
| 4 | 184 | 6 | 03:53.76 | Miles Clisham U23 | Coventry / Leeds Beckett Uni |
| 5 | 187 | 9 | 03:53.91 | Tj Jones U17 | Wirral |
| 6 | 183 | 5 | 03:54.84 | Joshua Blevins U17 | Gateshead |
| 7 | 189 | 11 | 03:55.82 | Adam Day U23 | Chiltern / Birmingham Uni |
| 8 | 182 | 4 | 03:56.14 | Oliver Prior U23 | Ashford Ac / St. Mary's Uni |
| 9 | 180 | 2 | 03:58.30 | Oj Parmenter U20 | Cambridge & Coleridge |
| 10 | 185 | 7 | 04:00.34 | Noah Bennett U20 | Rugby & Northampton |
| 11 | 181 | 3 | 04:00.61 | Tom Holden V35 | Tipton |
| | . | | | | |
| | . | | | | |
| | Race : 25 | | | BMC 1500m F (Mens) | |
| | | | | | |
| Posn | Vest No. | Leg No. | Time | Name | Club |
| 1 | 197 | 7 | 03:55.42 | Joseph O'brien U20 | City Of York |
| 2 | 199 | 9 | 03:55.64 | Joseph Moores | Salford H / Loughborough Students |
| 3 | 200 | 10 | 03:56.14 | Alex Brown | Morpeth / Loughborough Students |
| 4 | 201 | 11 | 03:57.22 | Luke Edwards | Edge Hill Uni / Liverpool Pembrok |
| 5 | 194 | 4 | 03:57.62 | Matthew Fuller U23 | Sheffield & Dearne / Oxford Uni |
| 6 | 191 | 1 | 03:57.72 | William Strickley U17 | Wirral |
| 7 | 192 | 2 | 03:57.82 | Brett Rushman U20 | Herts Phoenix |
| 8 | 198 | 8 | 03:57.91 | Max Cunningham U20 | Preston |
| 9 | 202 | 12 | 03:59.09 | Finley Proffitt U20 | Trafford |
| 10 | 193 | 3 | 04:00.42 | Joe Monk | Preston / Lancaster Uni |
| 11 | 203 | 13 | 04:05.87 | Ethan Brady-jones U17 | Wirral |
| | . | | | | |
| | . | | | | |
| | Race : 24 | | | BMC 1500m A (Womens) | |
| | | | | | |
| Posn | Vest No. | Leg No. | Time | Name | Club |
| 1 | 215 | 12 | 04:07.92 | Jessica Judd | Blackburn / Loughborough Students |
| 2 | 207 | 4 | 04:17.52 | Lucy Robinson | Wakefield / Leeds Uni |
| 3 | 214 | 11 | 04:17.67 | Gemma Kersey | Basildon / Middlesex Uni |
| 4 | 209 | 6 | 04:18.84 | Cari Hughes U23 | Cardiff / Loughborough Students |
| 5 | 206 | 3 | 04:18.91 | Alexandra Millard U23 | Invicta East Kent / Loughborough |
| 6 | 212 | 9 | 04:20.73 | Juliet Hodder U23 | Wirral / St. Mary's Uni |
| 7 | 205 | 2 | 04:21.86 | Jennifer Walsh | Leeds City / Durham Uni / Kirklees |
| 8 | 210 | 7 | 04:23.72 | Saskia Millard U23 | Herne Hill / Birmingham Uni |
| 9 | 204 | 1 | 04:27.76 | Hannah Viner | Highgate / King's College London |
| 10 | 208 | 5 | 04:34.32 | Alex Eykelbosch | Dacorum & Tring |
| | . | | | | |
| | . | | | | |
| | Race : 23 | | | BMC 1500m B (Womens) | |
| | | | | | |
| Posn | Vest No. | Leg No. | Time | Name | Club |
| 1 | 229 | 14 | 04:23.06 | Amelia Samuels U23 | Wolverhampton & Bilston |
| 2 | 220 | 5 | 04:23.99 | Alexandra Shipley U23 | Mk Distance Project / Oxford Uni |
| 3 | 219 | 4 | 04:24.53 | Philippa Stone | Middlesbrough (mandale) / Durham |
| 4 | 217 | 2 | 04:24.92 | Alexandra Brown U23 | Herne Hill / Oxford Uni |
| 5 | 225 | 10 | 04:25.28 | Sophie Tarver | Wirral / Loughborough Students |
| 6 | 226 | 11 | 04:29.19 | Abigail Howarth | Leigh / Cardiff Uni |
| 7 | 218 | 3 | 04:29.81 | Katie Lowery U23 | Warrington Ac / Edinburgh Uni |
| 8 | 224 | 9 | 04:32.17 | Anna Mason U20 | Border |
| 9 | 222 | 7 | 04:37.16 | Femke Rosbergen U20 | City Of Norwich |
| | . | | | | |
| | . | | | | |
| | Race : 22 | | | BMC 1500m C (Womens) | |
| | | | | | |
| Posn | Vest No. | Leg No. | Time | Name | Club |
| 1 | 242 | 12 | 04:28.88 | Mena Scatchard U20 | Leeds City |
| 2 | 239 | 9 | 04:31.70 | Sophie Nicholls U17 | City Of Salisbury |
| 3 | 240 | 10 | 04:32.12 | Elsa Palmer U23 | Dorking & Mole Valley / Birmingha |
| 4 | 236 | 6 | 04:32.25 | Samantha Mason U20 | Salford H / Trafford |
| 5 | 232 | 2 | 04:32.80 | Alyssa Davey U23 | Sale Harriers Manchester |
| 6 | 234 | 4 | 04:33.29 | Grace Roberts U17 | Vale Royal |
| 7 | 244 | 14 | 04:33.90 | Molly Butterworth U23 | Doncaster / Leeds Uni |
| 8 | 237 | 7 | 04:36.87 | Ruby Whyte-wilding | Lewes / Birmingham Uni |
| 9 | 243 | 13 | 04:38.96 | Lauren Dickson U23 | Lasswade |
| 10 | 235 | 5 | 04:39.69 | Pippa Bailey | St. Albans Ac / St. Albans Stride |
| 11 | 233 | 3 | 04:43.48 | Lara Crawford U20 | Sale Harriers Manchester |
| 12 | 231 | 1 | 04:44.31 | Ella Shirley | Birchfield H / Birmingham Uni |
| | . | | | | |
| | . | | | | |
| | Race : 29 | | | BMC 1500m D (Womens) | |
| | | | | | |
| Posn | Vest No. | Leg No. | Time | Name | Club |
| 1 | 252 | 8 | 04:37.24 | Hannah Robinson | Birchfield H |
| 2 | 247 | 3 | 04:38.91 | Orla Gregory U17 | Warrington Ac |
| 3 | 246 | 2 | 04:39.71 | Alyth Gollan U20 | East Sutherland |
| 4 | 251 | 7 | 04:40.59 | Abbey Brooke U23 | Wakefield / Loughborough Students |
| 5 | 249 | 5 | 04:41.44 | Lucy Elms U23 | Dulwich / Birmingham Uni |
| 6 | 248 | 4 | 04:48.07 | Sophie Cowper | Rotherham / Anglia Ruskin U |
| 7 | 245 | 1 | 04:56.80 | Isabelle Burke U17 | Sale Harriers Manchester |
| | . | | | | |
| | . | | | | |
| | Race : 32 | | | BMC 5000m A (Mens) | |
| | | | | | |
| Posn | Vest No. | Leg No. | Time | Name | Club |
| 1 | 265 | 12 | 13:52.63 | Hugo Milner | Derby / Harvard Uni |
| 2 | 260 | 7 | 13:58.47 | Eoin Everard V35 | Kilkenny / Ireland |
| 3 | 275 | 22 | 14:05.33 | Nigel Martin | Sale Harriers Manchester |
| 4 | 267 | 14 | 14:07.26 | Jamie Crowe | Central |
| 5 | 261 | 8 | 14:08.22 | Nathan Jones | Cardiff |
| 6 | 264 | 11 | 14:08.63 | Alasdair Kinloch U23 | Tonbridge / Loughborough Students |
| 7 | 255 | 2 | 14:10.81 | Dominic Nolan | Croydon / Loughborough Students |
| 8 | 259 | 6 | 14:13.16 | Finn Mcnally | Brighton Phoenix |
| 9 | 273 | 20 | 14:18.45 | Andrew Fyfe | Edinburgh Ac |
| 10 | 257 | 4 | 14:27.63 | Ian Crowe-wright | Brighton & Hove |
| 11 | 256 | 3 | 14:31.62 | Robert Warner | Blackburn / Loughborough Students |
| 12 | 258 | 5 | 14:35.56 | Kieran Reilly | Tonbridge / Eastern Michigan / Loug |
| 13 | 272 | 19 | 14:36.04 | Alastair Hay V35 | Central |
| 14 | 271 | 18 | 14:36.84 | Matthew Grieve | Leeds City / Leeds Beckett Uni / No |
| 15 | 266 | 13 | 14:39.60 | Jordan Rowe | Thames Valley |
| 16 | 270 | 17 | 14:46.48 | Joe Hudson U23 | Keighley & Craven / Birmingham Un |
| 17 | 274 | 21 | 15:07.41 | Joe Sagar | Spenborough |
| 18 | 268 | 15 | 15:19.31 | Kadar Omar | Birchfield H / Ethiopia |
| | . | | | | |
| | . | | | | |
| | Race : 30 | | | BMC 5000m B (Mens) | |
| | | | | | |
| Posn | Vest No. | Leg No. | Time | Name | Club |
| 1 | 288 | 13 | 14:09.81 | Callum Davidson | Blackburn / Bangor Uni |
| 2 | 283 | 8 | 14:10.91 | Max Milarvie U23 | Victoria Park City Of Glasgow / E |
| 3 | 281 | 6 | 14:16.37 | Thomas Moran | Stockport / Ireland |
| 4 | 279 | 4 | 14:20.49 | James Straw | Lincoln Wellington / Sheffield Ha |
| 5 | 285 | 10 | 14:27.72 | Sean Chalmers | Inverness / West Of Scotland Uni |
| 6 | 277 | 2 | 14:28.50 | Marc Brown | Salford H |
| 7 | 292 | 17 | 14:29.77 | Carl Smith | Tyne Bridge / Birmingham Uni |
| 8 | 290 | 15 | 14:30.33 | Phillip Crout | Shaftesbury Barnet / Cambridge Un |
| 9 | 276 | 1 | 14:31.12 | George Beardmore U23 | Worcester / Loughborough Students |
| 10 | 284 | 9 | 14:41.25 | Andrew Norman V40 | Altrincham |
| 11 | 278 | 3 | 14:43.93 | Tim Raynes | Blackburn |
| 12 | 294 | 19 | 14:45.90 | Ben Fish V35 | Blackburn |
| 13 | 286 | 11 | 14:48.26 | Tom Graham-marr U23 | Central / Aberdeen Uni |
| 14 | 280 | 5 | 14:49.26 | Gavin Smith U23 | Cambuslang |
| 15 | 295 | 20 | 14:49.46 | Karl Darcy V35 | Salford H |
| 16 | 287 | 12 | 14:53.23 | Matthew Merrick U23 | Aldershot  Farnham & District / S |
| 17 | 291 | 16 | 14:54.40 | Max Walk U23 | Birchfield H / Birmingham Uni |
| 18 | 289 | 14 | 15:12.60 | Luke Cotter | Rotherham / Oxford Uni |
| 19 | 293 | 18 | 15:15.52 | Josh Lunn | Cardiff |
| | . | | | | |
| | . | | | | |
| | Race : 12 | | | BMC 5000m C (Mens) | |
| | | | | | |
| Posn | Vest No. | Leg No. | Time | Name | Club |
| 1 | 310 | 15 | 14:47.50 | Sam Hancox | Morpeth |
| 2 | 297 | 2 | 14:50.66 | Thomas Rogerson | Liverpool H / Manchester Metropol |
| 3 | 299 | 4 | 14:52.29 | Matthew Watson V40 | Unattached |
| 4 | 305 | 10 | 14:54.29 | David Barratt | Salford H |
| 5 | 303 | 8 | 14:54.53 | Akkeal Chambers | Stockport |
| 6 | 306 | 11 | 14:54.81 | James Wignall | Sale Harriers Manchester / Manche |
| 7 | 304 | 9 | 15:00.82 | Tom Wood U23 | Eryri / Oxford Uni |
| 8 | 312 | 17 | 15:13.73 | Ben Ward | Metro Aberdeen |
| 9 | 296 | 1 | 15:19.36 | Samuel Goodchild U23 | Cornwall Ac / Cardiff Met Uni |
| 10 | 308 | 13 | 15:21.32 | Lewis Hannigan U20 | Kilbarchan |
| 11 | 309 | 14 | 15:24.65 | Phil Robertson | Sale Harriers Manchester |
| 12 | 311 | 16 | 15:25.08 | Richard De-camps | Gloucester |
| 13 | 314 | 19 | 15:33.00 | Sam Knee-robinson | Bedford & County |
| 14 | 301 | 6 | 15:40.36 | Jenson Connell U20 | Mansfield |
| 15 | 298 | | 15:44.66 | Cameron Cass U23 | Sheffield & Dearne / Nottingham T |
| | . | | | | |
| | . | | | | |
| | Race : 31 | | | BMC 5000m A (Womens) | |
| | | | | | |
| Posn | Vest No. | Leg No. | Time | Name | Club |
| 1 | 324 | 10 | 16:11.10 | Stephie Pennycook | Fife / Leeds City / Edinburgh Uni |
| 2 | 321 | 7 | 16:29.15 | Lauren Mcneil U23 | Hallamshire |
| 3 | 319 | 5 | 16:33.78 | Sally Ratcliffe | Aldershot  Farnham & District / L |
| 4 | 322 | 8 | 16:37.70 | Naomi Lang U23 | Aberdeen / Edinburgh Uni |
| 5 | 320 | 6 | 16:46.29 | Mollie Williams | Stockport |
| 6 | 316 | 2 | 16:49.60 | Georgia Malir | Leeds City / Leeds Uni |
| 7 | 317 | 3 | 17:00.13 | Hannah Brown | Sale Harriers Manchester / Manche |
| 8 | 326 | 12 | 17:00.20 | Becky Briggs U23 | City Of Hull / St. Mary's Uni |
| 9 | 323 | 9 | 17:19.40 | Laura Hesketh V35 | Ribble Valley H |
| 10 | 318 | 4 | 17:35.56 | Rachel Friend | Leeds City |
| | . | | | | |
| | . | | | | |
| | Race : 1 | | | BMC 3000SC A (Mens) | |
| | | | | | |
| Posn | Vest No. | Leg No. | Time | Name | Club |
| 1 | 338 | 10 | 08:36.50 | Jonathan Hopkins | Swansea / Cardiff Uni / Run Fast |
| 2 | 334 | 6 | 08:48.55 | Jayme Rossiter | Newham & Essex Beagles / Clonliff |
| 3 | 340 | 12 | 08:50.38 | Ieuan Thomas | Cardiff |
| 4 | 332 | 4 | 08:55.59 | Kristian Imroth U20 | Shaftesbury Barnet |
| 5 | 330 | 2 | 08:57.17 | Liam Harris | Ireland |
| 6 | 341 | 13 | 09:01.89 | Conall Mcginness U23 | Cambridge & Coleridge / Miami Uni |
| 7 | 335 | 7 | 09:09.94 | Magnus Tait U23 | Lasswade / Glasgow Uni |
| 8 | 336 | 8 | 09:20.57 | Ben Nagy | Barnet |
| 9 | 331 | 3 | 09:25.85 | Peter Bradshaw U20 | Inverclyde |
| 10 | 337 | 9 | 09:27.74 | Luca Minale U20 | Victoria Park & Tower Hamlets |
| 11 | 329 | 1 | 09:29.42 | Elliot Moran U23 | Exeter |
| | . | | | | |
| | . | | | | |
| | Race : 2 | | | BMC 3000SC A (Womens) | |
| | | | | | |
| Posn | Vest No. | Leg No. | Time | Name | Club |
| 1 | 344 | 3 | 10:16.95 | Sarah Tait U23 | Lasswade / Stirling Uni |
| 2 | 346 | 5 | 10:21.23 | Kate Seary | Cardiff |
| 3 | 345 | 4 | 10:34.50 | Lauren Hall | Aldershot  Farnham & District / A |
| | . | | | | |
| | . | | | | |
| | Race : 4 | | | BMC 400m A (Mens) | |
| | | | | | |
| Posn | Vest No. | Leg No. | Time | Name | Club |
| 1 | 1 | 1 | 46.40 | Lee Thompson | Sheffield & Dearne |
| 2 | 4 | 4 | 46.78 | Owen Smith | Cardiff / Cardiff Met Uni |
| 3 | 3 | 3 | 48.48 | Alex Botterill U23 | City Of York / Leeds Beckett Uni |
| | . | | | | |
| | . | | | | |
| | Race : 3 | | | BMC 400m A (Womens) | |
| | | | | | |
| Posn | Vest No. | Leg No. | Time | Name | Club |
| 1 | 350 | 2 | 52.46 | Christopher Perry | Exeter / Man Met |
| 2 | 7 | 3 | 54.04 | Victoria Ohuruogu | Newham & Essex Beagles |
| 3 | 5 | 1 | 55.18 | Natasha Harrison U23 | Stockport / Loughborough Students |